Your Yoga class with a private coach,
wherever you are, whenever you want.
Discover YogaWat
Every year , worldwide , the number of yogis is growing.
In our modern life it is not always possible to participate in yoga classes as much as we
would like to .
YogaWat marks a new step in the practice of yoga by proposing yoga classes ,with a certified coach , on tablets and smartphones, at your own pace, anywhere, anytime and as often as you like. Once the videos are downloaded you won't need an Internet connection anymore . With YogaWat, no fixed, expensive and binding subscription, or video instreaming on the Internet. Purchase each video just once and keep them for a lifetime.
The pleasant surroundings and the music dedicated to these sessions will bring you all the harmony necessary for your concentration and your well-being.


My videos
Purchase each video just once and keep them for a lifetime even without Wi-Fi!

My Playlist
Create your own session with a personal playlist by choosing your favourite chapters from each video!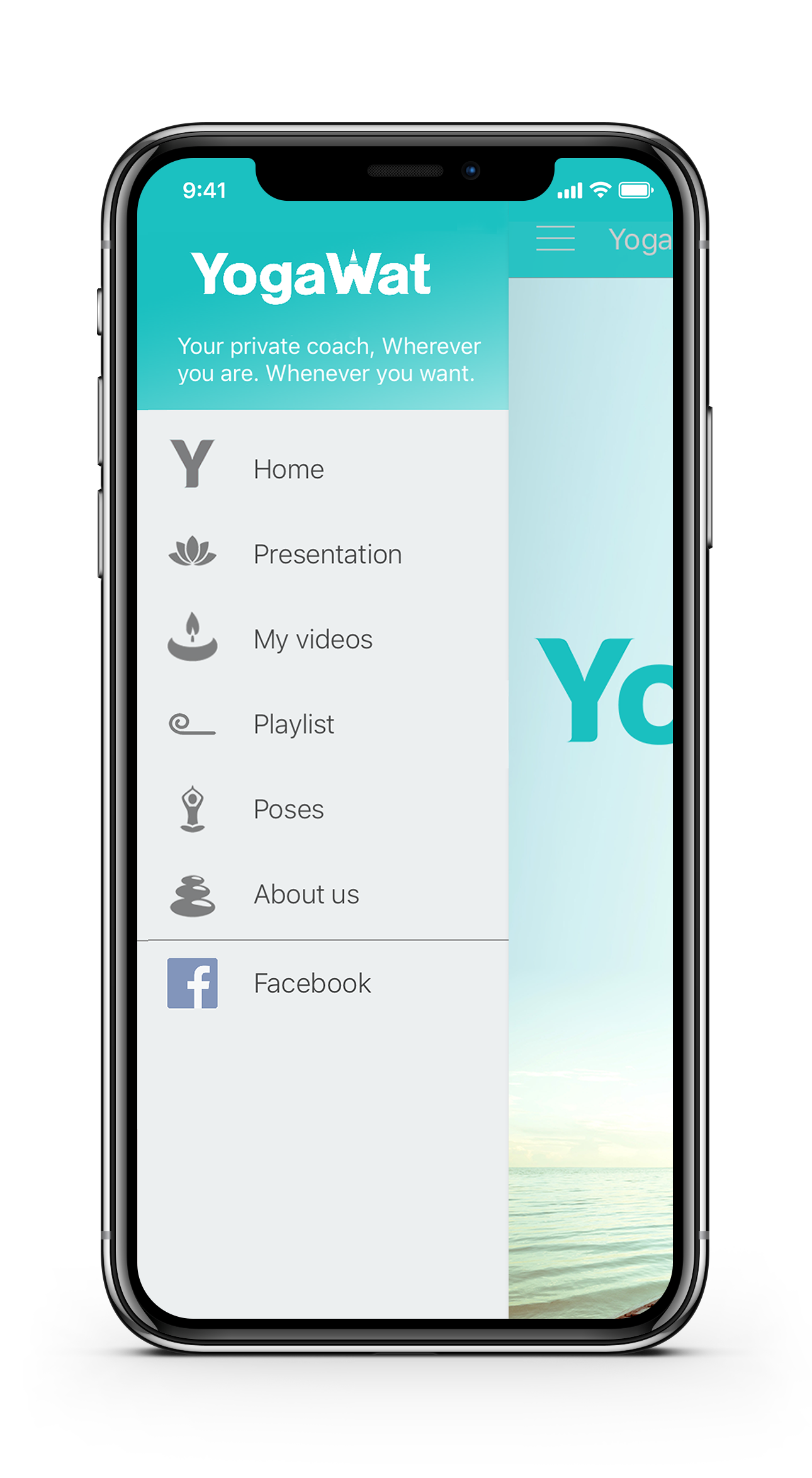 Poses
Find the benefits of each posture shown in the video.

Free trial
In order to test our unique concept you have a 20 minutes free yoga class available in the application!
Daily Yoga Course
20 minutes, 1 chapters, Free

• Complete yoga sequence
• Perfect for every days use
FREE!
De-stress and Inner Balance
1 hour, 9 chapters, 8,99 €


• For all levels
• Build and strengthen your muscles and calm your mind with this hatha yoga class.
• This video was filmed in a beautiful area in Thailand, which allows you to de-stress and decompress from everyday life and regain a true inner balance.
Overview
Power & Balance
1 hour, 7 chapters, 8,99 €


• Advanced level
• Strengthen your muscles, regain flexibility, gain more strength and energy, reduce stress and even lose weight!
• This class is a continuation of the video « De-stress & inner balance » and includes more advanced poses. But don't worry; YogaWat offers poses for beginners.
Overview
Relaxing Yoga
38 minutes, 5 chapters, 4,49 €


• For all levels
• This video is perfect for relaxing and de-stressing after a long day or just for calming down body and mind at any time.
Overview
Energy and relaxation
1 hour, 14 chapters, 8,99 €


• For all levels
• Follow a real hatha yoga class with a teacher, who explains how to practice each posture and the benefit of each asana.
• By practicing these exercises regularly, you will reduce stress and quieten your mind. At the same time you will also find a new joy in life.
Overview
Reviews
Essential app ! I have never followed such a beneficial yoga classes. The serene voice of Professor and the relaxing music are contributing strongly. The Explanations are detailed. These courses deserve to be followed Regularly. CONGRATULATIONS!
This application is a pleasure that makes you want to practice! In addition to aesthetics, it provides a very complete program accessible and easy to use. The sequences, voice, and music, everything is here to relax, to reconnect with ourselves and enjoy.